This post may contain affiliate links. That means if you click and buy, I may receive a small commission (at zero cost to you). Please see my full disclosure policy for details.
Hidden in Southeastern Indiana, close to the Kentucky border, lies one of the most unique amusement parks in America — Holiday World. Located in Santa Clause, Indiana, the park is a regional gem and favorite among amusement park enthusiasts. While it doesn't boast some of the bigger roller coasters found at other amusement parks, it holds its own with family-friendly attractions and many unique offerings.
Keep reading our complete guide to Holiday World to help you plan your next family adventure this summer.
What is Holiday World?
Holiday World is an amusement park located in Santa Claus, Indiana. The amusement park originally opened in 1946 as Santa Claus Land. The park's name was later changed to Holiday World in 1984. A water park named Splashin' Safari was later added in 1993.
Holiday World Updates for 2023
Holiday World has announced a few updates for the 2023 season.
Cashless System: In 2023, Holiday World and Splashin' Safari are going cashless. Several amusement parks have begun employing a cashless system, and now you can add Holiday World to the mix. Guests can no longer use cash within the park to pay for purchases. When visiting the park, you can use the following payment methods:
Discover
Master Card
Visa
HoliCash
Apple Pay
Google Pay
If you prefer to use cash, you can use one of the cash-to-card kiosks located around the park to load money onto a ReadyCARD, which is a prepaid card that can be used anywhere within the park and outside the park wherever credit cards are accepted. Guests can load up to $500 per kiosk transaction. There's no fee to create or use the prepaid card, but after 92 days of inactivity, readyCARD charges a $3.95 monthly inactivity fee.
Drone Show: Holiday World announced that its popular Holiday in the Sky" drone and fireworks show will return during the 2023 season. The show will feature 400 drones (100 more than in 2022). The new drone show will run nightly from June 17th to July 30th and again on October 29th.
New Pre-K Pass: For the first time ever, Holiday World will offer free Pre-K season passes for four and five-year-old children visiting the amusement park. Parents and guardians must provide documentation to confirm birthdates for the pass. Children ages three and younger get in free at Holiday World. Pre-K season passes are good for the entire season and during Kids World and Happy Halloween Weekends. Passes are only available online, not in person. Holiday World will process age confirmation documents on your first visit to the park.
2023 Pre-K Season Passes will be available until September 4, 2023.
Your Complete Guide to Visiting Holiday World in 2023
Holiday World might be smaller than other Midwestern amusement parks like Cedar Point and Kings Island. That doesn't mean it doesn't offer value, especially for families looking for affordable entertainment options.
Our Holiday World review below contains helpful information about visiting the amusement park, including ride information, dining, entertainment, shopping, tickets, and much more. We tried to fit in as much information as possible but probably missed a few details. If you have any questions, please leave them in the comments, and we will try to answer them. Here is your complete guide to visiting Holiday World in 2023.
Holiday World Opening Day 2023
Holiday World is set to open to the public on May 6th, 2023. Splashin' Safari Water Park opens on May 20th, 2023.
Holiday World Rides
Holiday World is home to several thrill rides, including a handful of roller coasters and several family-friendly attractions. Whether you're a thrill-seeker or you prefer less aggressive rides, Holiday World has something for everyone. Here's a look at some of Holiday World's most popular rides.
Holiday World Roller Coasters
Thunderbird: One of the park's most popular rides, Thunderbird is the only launched wing coaster in the country.
Howler: A smaller, kid-friendly rollercoaster.
The Legend: A wooden roller coaster based on The Legend of Sleepy Hollow.
The Raven: Another wood roller coaster, Raven takes riders along Lake Rudolph and features a 120-foot tunnel.
The Voyage: This wooden roller coaster was voted the top wooden roller coaster in the country by Time magazine in 2013. It's also one of the nation's longest roller coasters at 1.2 miles long.
Other Notable Holiday World Rides
Besides roller coasters, Holiday World is home to several other rides worth checking out.
Crow's Nest
Doggone Trail
Eagles Flight
Firecracker
Frightful Falls
Gobbler Getaway
HallowSwings
Holidog Express
Kitty's Tea Party
Lewis & Clark Trail
Liberty Launch
Mayflower
Raging Rapids
Reindeer Games
Revolution
Rough Riders
Scarecrow Scrambler
Star Spangled Carousel
Turkey Whirl
Splashin' Safari rides
A visit to Holiday World isn't complete without cooling off at Splashin' Safari, the attached water park. Splashin' Safari is home to several award-winning waterslides and other notable water attractions, including:
Bahari River
Bahari Wave Pool
Bakuli
Cheetah Chase Water Coaster
Jungle Racer
Kima Bay
Mammoth Water Coaster
Otorongo
Safari Sam's SplashLand
Tembo Falls
Tembo Tides
The Wave
Watubee
Wildebeest Water Coaster
Zinga
ZOOMbabwe
Holiday World Ride Restrictions
Like most amusement parks, Holiday World has ride policies and restrictions in place to protect all of its guests, including height, weight, health, and other restrictions. Always familiarize yourself with park restrictions before visiting.
Accessibility at Holiday World
Holiday World offers several services for everyone who visits the park, including guests with disabilities. Refer to the park's website for detailed information on park accessibility, including:
A Calming Room
Casts and braces
First Aid
Parking
Restrooms
Safety Restraints
Service Animals
Boarding Pass program
Wheelchairs
Be sure to stop by guest relations at the front of the park upon arrival to get assistance, ask questions, and receive a guide to help you during your visit.
Dining at Holiday World
Holiday World also offers several dining options for park guests, including allergen-free and gluten-free options.
Holiday World Restaurants
Amusement parks aren't necessarily known for their food quality. That said, Holiday World offers plenty of options to fit almost everyone's wants and needs:
Alamo
Bahari Snacks
Candy Cane Confectionary
Christmas Cupboard
Dippin' Dots
Dippin' Dots Sundae Shop
Funnel Cake Factory
George's Gluten-Free Pizza
Goblin Burgers
Hot Diggity Dogs
ICEE Mix It Up
Jungle Jake's
Lemon Shake-Up
Plymouth Rock Café
Polar Expresso
Pretzel Carts
Safari Ice Cream
Safari Pizza
Sam's BBQ
Santa's Merry Marketplace
Shaved Ice & Smoothies
Sugarplum Scoop Shoppe
Sweet Stuff
The SnackHouse
Udderly Blue Ice Cream
Wildebeestro
Can You Bring Food Into Holiday World?
Holiday World doesn't allow most outside food into the park. Exceptions to the rule include:
Baby food, formula, and small snacks
Sealed non-alcoholic beverages in plastic containers (no glass bottles or aluminum cans)
Medically required foods for special dietary needs
Soft-sided coolers (no larger than 8.5" wide x 6" high x 6" deep)
Bags, backpacks, and other items are inspected at a security checkpoint before entering the park. There are picnic pavilions located around the parking areas for guests to use.
Entertainment at Holiday World
Holiday World offers several unique entertainment options, including live shows. One of the most popular offerings is the Holidays in the Sky Drone & Fireworks Spectacular. There's also a diving show and live singing and dancing with Holidog & Friends. Check the park site for times and dates for all shows.
Holiday World Events
Holiday World hosts several special events during the season. While dates aren't set yet, here's a look at some of the events scheduled for the 2023 season:
HoliWood Nights: TBD
Kids World: TBD
Happy Halloween Weekends: TBD
Shopping at Holiday World
There are a few shops located around the park where guests can purchase various souvenirs. You'll find plenty of trinkets and apparel to celebrate your visit to Holiday World.
Holiday World Park Hours
Holiday World hours vary throughout the season. The amusement park typically opens at 9 AM or 10 AM and closes anywhere from 4 PM to 7 PM, depending on the day. Splashin' Safari opens daily at 11 AM and closes anywhere from 3 PM to 6 PM, depending on the day.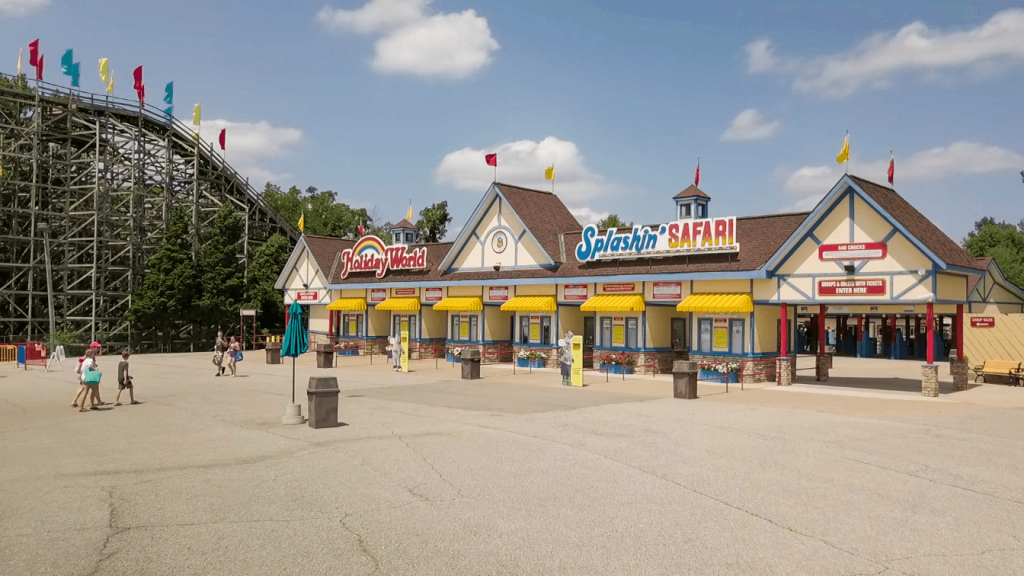 How to Buy Holiday World Tickets
You can buy Holiday World tickets directly from the park online or in person.
The park offers a few different ticket options for individuals and families. Below is the online pricing for Holiday World ticket options available in 2023. Prices do not include taxes and fees.
Anyday Ticket: $62.99
Two-Day Flex Ticket: $84.99
Three-Day Flex Ticket: $99.99
Military Ticket: $29.99; Two-Day Flex $74.99; Three-Day Flex $89.99
First Responder Ticket: $34.99; Two-Day Flex $79.99; Three-Day Flex $94.99
Nurse Ticket: $34.99; Two-Day Flex $79.99; Three-Day Flex $94.99
Holiday World Season Passes
Another way to save money, especially if you plan on visiting Holiday World multiple times during the season, is to purchase season passes. Here is the current pricing for Holiday World season passes.
Summer Fun Card: $130 – Admission Sunday to Friday through Labor Day, locker rental discount, and Season Passholder preview day (May 7)
Season Pass: $165 – Admission all season and for Halloween Weekends and Season Passholder preview day (May 7) plus locker, food, and store discounts
Platinum Season Pass: $200 – Includes everything available with a Season Pass, but also includes Platinum Passholder preview day (May 6), larger discounts and monthly $1 food specials.
Holiday World Add-On Passes
You can also upgrade your tickets by purchasing one of Holiday World's extra add-ons.
All Day Digital Photo Pass: $24.99 – Get unlimited digital ride and park photos during your visit.
All Season Digital Photo Pass: $34.99 – Unlimited digital ride and park photos for the entire season.
2023 Games Playbook: $20 – Included $25 in Game Bucks and game coupons, and a one-time single-use Quick Access pass.
Renting Lockers at Holiday World
Lockers are available to rent within Holiday World and Splashin' Safari. The majority of the lockers, including all large-size lockers, are found in Splashin' Safari.
How to Get to Holiday World
Holiday World is located at 452 E. Christmas Blvd., Santa Claus, Indiana 47579.
Parking at Holiday World
There's no charge to park at Holiday World, unlike most amusement parks. Parking is free at Holiday World every day.
Where to Stay At Holiday World
Holiday World doesn't offer any lodging, but several options are available with Santa Claus and the surrounding area.
One of the best options available in Lake Rudolph Campground & RV Resort. Not only is it located next to the park, but there's also a free shuttle to the amusement park for campers. Other lodging options include:
Baymont by Wyndham Dale
Big Splash Adventure
Comfort Inn Jasper
Comfort Inn Ferdinand
Hampton Inn Jasper
Holiday Inn Express & Suites Jasper
Holiday Inn Express & Suites Tell City
Lincoln Pines Lakefront Resort
Motel 6 Dale
Quality Inn & Suites Ferdinand
Quality Inn & Suites Rockport
Ramada Limited Tell City
Santa's Lakeside Cottages
Santa's Lodge
Sun Outdoors Lake Rudolph
Super 8 by Wyndham Jasper
Free Items at Holiday World
Free isn't something you would expect at an amusement park, but it's a core component of Holiday World's philosophy. Among the items you can find available at the park for free are:
Free soft drinks (including Gatorade, lemonade, iced tea, coffee, and water)
Free sunscreen
Free parking
Free package pickup
Free Wi-Fi
Free Electric Vehicle Charging Station
Holiday World FAQs
Does Holiday World offer rainchecks?
Holiday World offers a Worry-Free Weather guarantee for qualifying guests who experience inclement weather. If a storm forces the park to close attractions for a total of 90 minutes or longer, you can use your park ticket to return to the park another day during the season. Simply take the ticket to guest relations when you return to the park.
Can I bring food into Holiday World?
Select food items for babies and individuals with special dietary needs are allowed in the park. Sealed non-alcoholic beverages in plastic containers are also allowed.
Does Holiday World have special pricing for non-riders?
There is no discount for non-riders at Holiday World.
Does Holiday World offer discounts for military members?
Yes, Holiday World offers special discounted tickets available for members of the U.S. military. The park also offers discounted tickets for first responders and nurses.
What age gets in free at Holiday World?
Children three and under are free at Holiday World.
Does Holiday World have height restrictions?
There are some height and other restrictions for certain rides at Holiday World. Check the park's website before visiting for specific guidelines.
Can I rent a locker at Holiday World?
Lockers are available to rent (for a small fee) in various areas of the park and water park to store your belongings safely. Large-sized lockers are only available inside Splashin' Safari.
Can I rent a wheelchair at Holiday World?
Wheelchairs and scooters are available to rent on a first-come, first-served basis at St. Nick's Rentals, located just inside the front gate.
Looking for More Amusement Park Content?
Check out our other Amusement park articles for more information and tips!
Visiting Kings Island 2023: A Complete Guide
Cedar Point 2023: A Complete Guide
How To Save Money At Cedar Point
Are Cedar Point Season Passes Worth It?
Summer Fun at Cedar Point Shores Waterpark
Weekend Getaway to Castaway Bay
Visiting Michigan's Adventure in 2023: A Complete Guide
What is your favorite part Holiday World ride? Do you have any tips on visiting Holiday World? Let us know in the comments below.
Kevin Payne is the budgeting and family travel enthusiast behind FamilyMoneyAdventure.com. He's also the host of the Family Money Adventure Show podcast, where he helps families learn to manage their money better so they can afford to do the things they love.
Kevin is a freelance writer specializing in personal finance and travel. He is a regular contributor to USA Today, Forbes Advisor, Bankrate, Fox Business, Credible, and CreditCards.com.